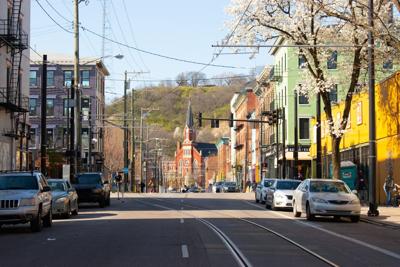 A view of the Over-the-Rhine neighborhood in Cincinnati.
Obtained from Unsplash
Stories that are part of the "Green at UC" series have been contributed in part by the University of Cincinnati environmental reporting class.
Oliver Kroner is the Director of Cincinnati's Office of Environment and Sustainability for the City of Cincinnati, recently appointed following his three-month tenure as interim director. Through his work in the Cincinnati government, Kroner has helped establish the Green Cincinnati Plan (GCP), an initiative aimed at improving sustainability in eight areas across the city: built environment, education and outreach, energy, food, natural systems, resilience, transportation, and waste.
In this interview, Kroner shares his perspective on the GCP and the issue of climate change within the Cincinnati community as the Office of Environment & Sustainability once again prepares to update the plan in 2023.
This interview has been edited for length and clarity.
The News Record (TNR): Tell us about the GCP and your role in creating the initiative.
Oliver Kroner (OK): Our office is charged with the development of the plan that is our city's playbook for building a sustainable, equitable, resilient future for the city. It includes eight strategies to reduce carbon emissions by 80% by the year 2050 with a focus on our different systems like food, waste, energy, and transportation.
Central to this effort is engaging with community members to hear what they believe to be key priorities and key strategies. We try to hear as many voices as possible, and our office works to synthesize all of that information we're hearing to decide a cohesive, big-picture, long-term strategy. We are in the process right now of preparing what will be the 2023 GCP. It will be the fourth iteration of the plan as we continue to improve and evolve our planning strategy.
TNR: Why do you believe the GCP is important for the city to have?
OK: I think, in many ways, cities are being challenged right now to reinvent themselves. If you look at where carbon comes from on a global scale, 70% is coming from the cities where the majority of people live, and it has an expanded impact on the climate crisis. The GCP is intended to be a roadmap for redefining ourselves, our city and how we live within it. I think it's my life's work because I find it to be such an interesting, complex challenge that weaves together social issues, technology issues, policy and politics. It's a really complex puzzle.
TNR: The GCP includes a recommendation to create a sustainability district similar to the 2030 District located in Cleveland. Tell me more about that initiative.
OK: Looking at climate change, we understand that carbon emissions are driving the issue, so we have to know where our carbon emissions come from. When we do an analysis of the carbon profile, we can see that about two-thirds of our carbon emissions come from our buildings and how they use energy. With that in mind, we get to work. When we look at our buildings, we know that we need to significantly improve the energy performance of those buildings
The 2030 District is an effort to focus on our commercial building sector, a voluntary commitment that companies and institutions can sign on to achieve a 50% reduction in energy consumption, water consumption, transportation from emission and building wellness by the year 2030. We think about our big institutions, even like the University of Cincinnati, which have signed on, and now they're working to achieve goals.
TNR: Landfills are a perpetrator of climate change as they release methane, carbon dioxide and other greenhouse gasses into the environment. How does the GCP work to make Cincinnati a zero-waste city?
OK: First and foremost, we operate the city's recycling program, and we're working to expand in terms of household service, the number of households serviced and the total amounts of recyclables collected. And as you've probably seen, we partner with Rumpke. They have been able to expand what they're able to collect and recycle.
We also do a waste audit in partnership with Hamilton County to look at what is in our waste stream and where we can make the biggest impact. Unrecyclable items like organic waste, which includes food waste, are the major opportunity to improve because they make up such a significant slice of the waste stream and are a large producer of methane emissions.
TNR: What would you say to someone who does not believe in climate change?
OK: I am more interested in having conversations with people who understand how [climate change] is impacting Cincinnati and are ready to take action. With any issue in today's politics, there are people who disagree, but right now, I think we have enough people who understand the importance of this and who want to take action. They're looking to make an impact. I'm focused on those individuals and organizations who are really looking to make a difference.
TNR: In your opinion, what do you think will happen if we do not implement any of the initiatives in the GCP or don't act on climate change issues in Cincinnati?
OK: These [climate] changes are happening faster than we expected. But it's not the water level rise and fires and droughts that are really impacting Cincinnati. We are seeing increases in emergencies during summer, and we're seeing increases in temperatures across the winter, which give an advantage to invasive species and pest species, [like] mosquitoes. The really big change we're seeing is the increasing storm events. Climatologists measure 100-year storm events that are statistically supposed to happen once every 100 years; we've now had ten of those in 11 years. With those storms, we get stormwater runoff and flash flooding. The hillside becomes saturated with the landslides, and we have a very old sewer system that is not designed to handle these major storm bursts. So when it rains, we have sewer backups that result in raw sewage in people's yards and public waterways. They're very challenging issues and expensive to handle.
TNR: You mentioned that working to counteract climate change has been your life's mission. Why is creating actions such as the GCP important to you?
OK: I just think it's the biggest challenge facing humankind. It's the largest issue we're dealing with today and for the foreseeable future. I am someone who's drawn to problems drawn to challenges, and this is where I'm investing my energy because I think that's where it's needed most.